The FIA has announced the new calendar for the 2022 World Endurance Championship. Season 10 will take place on three continents, with Sebring returning after a two-year absence due to Covid-19. The 1000 miles will open the season on 18 March, ahead of the IMSA Mobil 1 Twelve Hours of Sebring.
Six WEC races will take place in Europe, Asia, the Middle East and North America, ensuring the growing popularity of WEC manufacturers and partners in key regions of the world.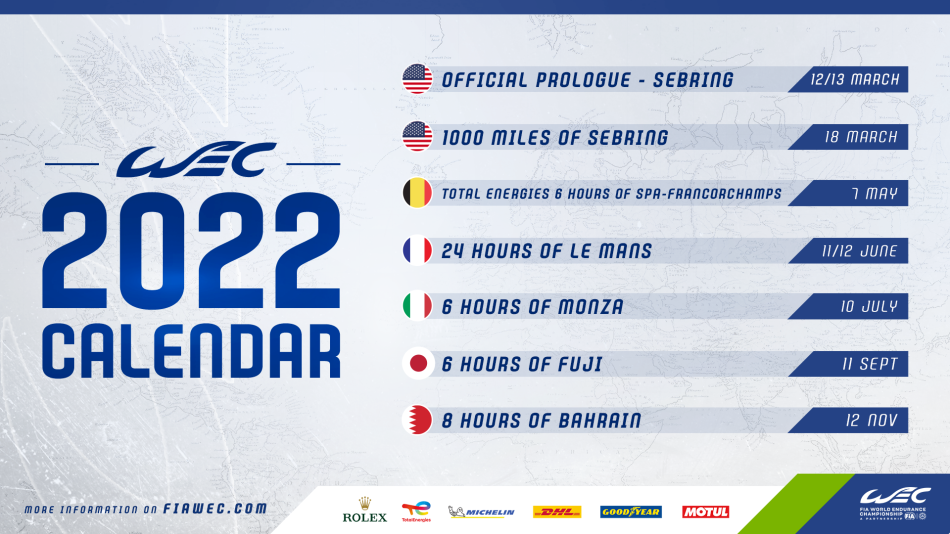 The official WEC Prolog (pre-season test) will take place from 12 to 13 March. After the success of the first 6 hours of Monza, the World Endurance Championship will return to the iconic temple of speed for another 6 hours.
Iconic circuits such as Spa-Francorchamps, Fuji and Bahrain will complement the famous Sebring and Monza. Le Mans 24 Hours will return to its traditional circuit in mid-June.
2022 FIA World Endurance Championship Calendar
12/13 March 2022, Official Prologue – Sebring (USA)
18 March 2022, 1000 Miles of Sebring (USA)
7 May 2022, TOTAL Energies 6 Hours of Spa-Francorchamps (BEL)
11/12 June 2022, 24 Hours of Le Mans (FRA)
10 July 2022, 6 Hours of Monza (ITA)
11 September 2022, 6 Hours of Fuji (JPN)
12 November 2022, 8 Hours of Bahrain (BAH)
FIA WEC 2